Written by Linda Gauthier
This morning I woke up determined I was not going to put any more obstacles in my way. I have been building up this fear in my mind of climbing on that scale and finding I have taken 2 giant steps backwards. Today is the day I face my nemesis head on, armed with my first cup of coffee, a prayer to the heavens and a deep breath, I venture forth to face my enemy. Cautiously, I approach its cave (the washroom), with trepidation I approach, poking it gently with my big toe, no reaction. Maybe it is asleep, quick poke it again, stand on it, get it while it is down, maybe it won't register the full measure of my fall from grace.
Gulp, step, sighs, hey that's not so terrible...
I'm down a whopping 1.4 lbs, mind you that is probably because of the flu and definitely not my

good

behavior. Tons of excuses went on this season and I expected to be punished for my indulgences. You can only say "Oh this little tart won't hurt, it's small; this mouthful of cheese dip is ok, it's protein right? Chips? Sure, I need those, apply them right here to the hips", so many times before fate comes up and slaps you in the face with a reality check. As I've said before, old habits are really comfortable, and easy to slip back into.
Like that big old baggy sweater, feels great and comfy but looks like ----, well you know!!
So today I am concentrating on setting an exercise regime, and making sure I have it scheduled so I don't procrastinate. Making sure I have all the ingredients for my menu and making my Weight Watchers soup, which, according to the recipe, has zero point value. Zero is good!! I have also adjusted my daily allowance of points.
According to my calculations, (using the calculator found on the sidebar of my blog), taking into consideration my age, height, weight and present sloth-like exercise regime I am allowed 26 points a day. Seems like a lot to me, but I will use that guideline.
I have also decided that I will either be walking or running or dragging myself around the Victoria Times-Colonist 10K Run, on April 28, this year.
Now that I have put it out there, I have to do it, much like when I started my diet adventure. I am now committed, or I probably should say "should be committed", because if you know me, I'm one of the original founders of a club known by the name; "Exercise and I
Don'
t Mix Club". I have until recently been more of a "Gin and Tonic Club Girl", but onward and upward. The Gin and Tonic, will have to wait until after the 28th of April.
So enough of the pithy banter and onto what you came

for,

the recipe.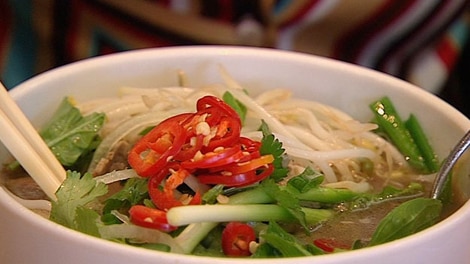 WEIGHT WATCHERS ASIAN ZERO POINTS SOUP
Makes 10 cups
6 cups vegetable broth (I used 6 cups water and Epicure Vegetable Broth)
2 cups bok

choy

, chopped
2 cups Chinese/Napa cabbage, chopped
1/4 cup fresh ginger, thinly sliced and julienned
4 oyster mushrooms, sliced thin (I used Button mushrooms )
Optional 2 star anise, kaffir lime leaves and lemon grass for a more authentic Vietnamese flavor. I usually put these ingredients in an infuser for easy removal at the end of cooking time.
2 cups scallions / green onions
8 ounce can of sliced water chestnuts, drained
1 red pepper, halved, cored, each half cut into three sections lengthwise, each section sliced thin crosswise
3 cloves garlic, minced
1/4 teaspoon red pepper flakes (this is a lot, this soup has some heat, if you don't appreciate that, start with 1/8 teaspoon
2 cups snow peas
1 cup fresh bean sprouts
2 tablespoons soy sauce (I used Ponzu, a light soy sauce, less sodium 17%

whereas

regular soy sauce is 48%)
1/2 cup fresh chopped cilantro

save

some aside to garnish bowl
Bean sprouts and red chili slices fresh for garnish you can also add some fresh scallion or green onion as part of the garnish.
1 lime, squeeze lightly over soup.
OPTIONAL BUT TIME-SAVING TIP Bring the water to a boil to make broth before adding veggies. In addition, your veggies will remain brighter in color, and are not overdone when your soup is ready for serving.
Collect all the vegetables except the snow peas and bean sprouts in a cold large pot or Dutch oven. When these vegetables are prepped, add the hot water or broth, cover and bring up to boil. Let simmer for about 5 minutes. Add the bean sprouts and snow peas, cook another 5 minutes. Stir in the soy sauce and cilantro. Remove Star Anise, lime leaves and Lemon grass
At the table I add more bean sprouts, cilantro, slices of red chili and a squeeze of lime, a few more pieces of scallion, now s
lurp and enjoy!!! I bet you will have a big smile on your face after you have enjoyed this meal.. Save rest for lunches or snack later in week.
NUTRITION ESTIMATE
Per Cup: 69 Cal
Weight Watchers 0 point
All these vegetables are 'free' vegetables in the Weight Watchers guide, and there is no added fat, no starchy vegetables.
According to the Weight Watchers folks, you can add a protein to a cup of soup:
2 ounces cooked shrimp, Weight Watchers 1 point
2 ounces scallops, Weight Watchers 1 point
1/2 cup firm tofu, Weight Watchers 1 point
2 ounces cooked white
chicken
meat, Weight Watchers 1 point